Wow, Wednesday already! I'm pretty excited this week is going by fast.
We are going out of town this weekend for a friends baby shower and to catch up with all of our friends.
I'm super excited to see all my girlfriends. Its been way to long.
Plus, Miss O gets to play with all the babies :)
So here's a mixture of what I've eaten over the week. Nothing fancy but I thought I'd share anyways. :)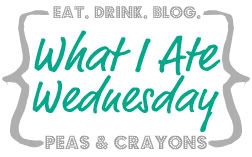 Happy Hump Day!!!