I love this link up with Peas and Crayons!
Here's what I've been eating. I've cleaned up my diet a lot and I'm still working on it.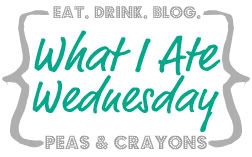 Breakfast: Spinach egg white scramble, toast, fruit and coffee with almond milk. I've been eating the same thing over and over. Which I typically do with breakfast. Weekends I change it up a little.
Last weekend we may of had cinnamon rolls. :)


Lunch: I've been eating a lot of low-carb wraps and sandwiches. There's been a little cup of soup in there because its been soooooo cold here the last week! Ugh so ready for summer.
The wraps have just been hummus, spinach, turkey and cucumber.
Dinner: Well its been all over the place :) I love experiencing and trying new recipes with dinner.
Here's what we've been eating.
Honey "Asian" chicken (recipe coming soon) brown rice and salad,
BBQ Pulled Pork sandwich (told you I was ready for summer) bbq bean and fruit
and my Crockpot Turkey Chili
Don't forget to link up
here
!