I've been reading the blog Peas and Crayons for a while now. I'm sure you've heard of her because she's pretty popular and has some amazing looking recipes I can't wait to try.
Every Wednesday she host a linkup party called What I Ate Wednesday.
So today I thought I would link up and share some of my recent eats with you guys.
This paleo thing is going pretty good. Its been kind of easy so far but I'm not burnt out yet so we'll see.
There are some meals I haven't eaten that are 100% paleo but I am keeping everything really clean!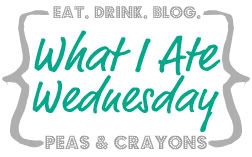 Breakfast: 4 egg whites, 2 pieces of bacon and fruit. I usually drink one cup of coffee with Almond Breeze.
You really should give this a try!!
Dinner: Potatoes and brussel sprouts, turkey tenderloin wrapped with bacon and grapes.
My favorite go to meal.
Paleo Chicken Stripes
, potatoes and brussel sprouts, apple and oranges and homemade honey mustard.
Saw these at the grocery store.
They are Uh-amazing!!!!