Since today is Friday and I've blogged almost everyday this week (record, I know!) I thought I would just do a High 5 For Friday post hosted by Lauren!
So, here's my top 5!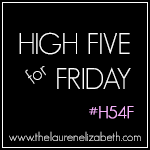 1. Miss Ollie turned 3 weeks on Tuesday!
2. Momma got some much need Fro-yo and chocolate! Maybe to much chocolate...
3. We went for our first walk together. Tried out the stroller and love it!
4. My new favorite magazine! P.S. can I have her abs?
5. This mama signed up for Body Pump again! Starting Aug 20. Hoping I don't die my first time back.