So I know I haven't blogged in three days so I thought I would blog today..
Hopefully tomorrow I will do my 24 week baby update.
Need to remember to take a picture.
I'm getting really bad about forgetting to take belly pics.
Also don't forget to linkup with Shannon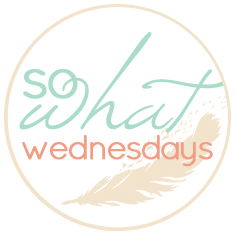 This week's "so what"
·
All I've been thinking about is food this week.
·
I have folded laundry I need to put away. It's going on day 3 now.
·
I take a nap almost every day. Growing a baby is hard work.
·
I changed my mind on Olivia's bedding after ordering the first set. Had to stop the order. :)
·
I'm so over winter. I just want sunshine and weather above 40 degrees
·
I look at baby girl clothes all the time.
·
I still have no idea on a middle name. Hubs doesn't really care.
·
I go to Wal-Mart every day just to walk around. Remember is 35 degrees here and I don't do treadmills.
·
I sleep in until 9 a.m. I'm not sleeping well at night. I thought it was because the hubs was taking up to much room but really it's because I pee a lot and I can't sleep on my tummy.
What's your "so what" this week?