Today I'm linking up with Shannon at Life After I "Dew"
I recently just found her blog and loved it!
Plus she's expecting baby # 2!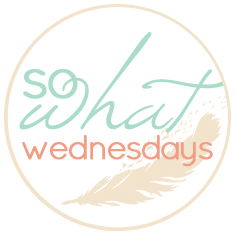 This week SO WHAT if...
·
All I want is McDonalds for breakfast.
·
I'm too lazy to do the dishes because our dishwasher is broke. Hubs has been doing them.
·
I took a 3 hour nap yesterday because our power was out for 4 hours.
·
Did nothing but eat all day because I was stuck at home.
·
I made the hubs take our dog outside every night to poo.
·
I love buying baby girl clothes. Like A LOT.
·
I cry at everything. More like bawl, dang hormones.
·
I haven't been walking like I should be. But I hate tredmills and no walking in 20 degree weather for this girl!
What's your "so what" this week?